FIXE Juverol
$64.95 
FIXE is a dietary supplement that provides an internal defense against breakouts. Non GMO. Gluten Free.
Advanced Hair Promoter*
Anti Androgen-DHT Blocker*
Supports Hair Growth & Clear Complexion*
Our innovative formula combines 5 powerful ingredients into hair boosting cap
lets for Women and Men
1) Biotin Promotes strong, healthful skin and hair; 2) Flax Seed Powder-Fights inflammation; 3) Saw Palmetto Extract– Known to reduce DHT levels; 4) Isoflavones– Phytoestrogens which neutralizes androgen and 5) Capsaicin– promotes hair growth
FIXE Juverol ingredients support the hair you already have and creates an environment that is beneficial for new hair growth.
Iconis Bioceutical products are made in the U.S.A. in a Certified Facility (CGMF) in compliance with NSF/ANSI Standard 173, Section 8. The GMP requirements set forth and enforced by the US Food and Drug Administration under Title 21 CFR
NON-GMO, Gluten FREE
FIXE works as a powerhouse DHT-reducing formula, paired with anti-inflammatory supplements to support hair regrowth
Individual Ingredients: Fight Breakouts with an Internal Defense; Supports Balancing of Hormones and Decreased Inflammation; Defends against Hair Thinning; Protects Hair Follicles from Destruction; Encourages Healthy Skin Moisture and Collagen Production
FIXE Juverol: For Women and Men (120 Caplets)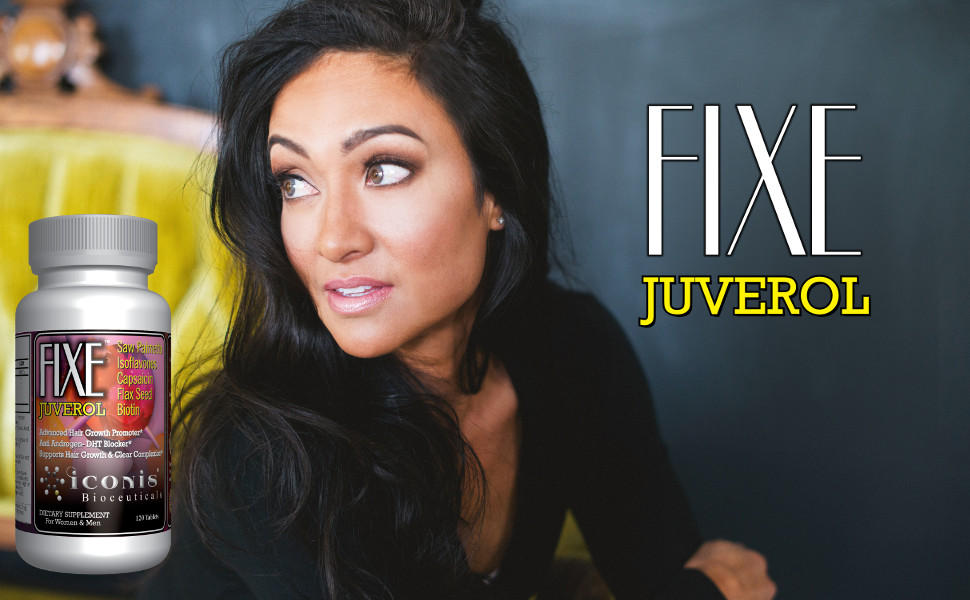 Fight Breakouts, Defend Against Hair Loss
When you battle poor complexion or hair loss, you become pretty familiar with cream, gel, lotion and other remedies. You spend a lot of money on them, coat your skin or scalp in them every day . . . and yet keep having breakouts and losing hair. Topicals might reduce breakouts and hair loss symptoms, but they don't get to the root of the issue – they don't address the cause.
That's why we created FIXE Juverol. As easy-to-take caplets, FIXE Juverol combines powerful compounds that fight the underlying cause of your skin and hair issues. It works within your body to stop breakouts before they start, and the unpredictable hormones that cause breakouts and hair loss in the first place.
Look brighter, feel clearer, and maintain fuller hair. FIXE Juverol is a dietary supplement that provides an internal defense against breakouts and hair loss. FIXE Juverol targets the main factors that lead to a poor complexion and hair thinning. Androgens and a form of androgens known as Dihydrotestosterone (DHT) are responsible for stimulating the oil glands to become enlarged and overproduce oil secretions and shrinking of hair follicle. The more oil produced and left to sit on your skin, the higher the chances are for your pores to become clogged which leads to breakouts. Our formula targets the androgens and DHT from enlarging the oil glands and blocks the DHT at the hair follicles . FIXE Juverol individual ingredients defend against hair thinning and poor complexions.

Our Innovative Formula Combines 5 Powerful Ingredients into Hair Boosting Caplets for Women and Men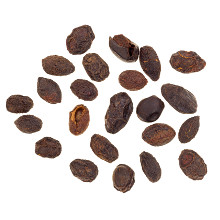 Saw Palmetto: (320 mg) 45% Fatty Acid
Saw Palmetto Extract – Known to reduce DHT levels. Research supports Saw Palmetto 160mg, taken twice a day for a total daily dose of 320mg per day. Saw Palmetto blocks 5 alpha Reductase and thought to decrease dihydrotestosterone (DHT) uptake by hair follicle and decrease the binding of DHT to androgenetic receptors. Saw Palmetto may also protect hair follicles from shrinking.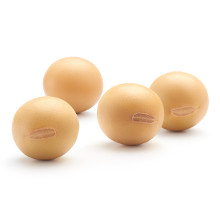 Isoflavones: (75 mg) Soy Bean Extract – 40% Isoflavones
Isoflavones – Bind to and modify the harmful effects of DHT. Contains phytoestrogens which neutralizes androgens. Improves aging skin by stimulating the production of hyaluronic acid in the dermis and epidermis by keeping skin plump and hydrated. Hyaluronic acid it thought to form a shield on the hair follicle that protects it from DHT.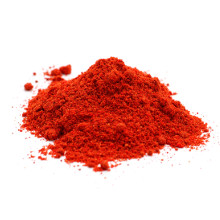 Capsaicin: (6 mg)
Capsaicin: Increase Insulin-like growth factor-I (IGF-I) production. Research strongly suggest that combined Capsaicin 6mg and Isoflavone 75mg may increase IGF-I production in hair follicles in the skin and thereby promote hair growth.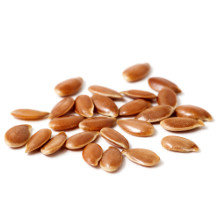 Flax Seed: (1200 mg) & Biotin: (300 mcg)
Flax Seed Powder – Fights Inflammation. A good source of healthy Omega-3's, Flax seed lignan can inhibit the production of the enzyme that converts testosterone into DHT. Omega-3's found in flax seed have been shown to control the production of a molecule called Leukotriene B4, which reduces inflammation. Biotin – Used to promote strong, healthful skin and hair. Improves the keratin infrastructure.
FIXE Juverol: Works as a Powerhouse DHT-Reducing Formula, Paired with Anti-Inflammatory Supplements to Supports Hair Regrowth
FIXE Defends Against Hair Thinning
Our product targets the type of hair thinning and hair loss that starts in the front hairline, on the crown or a noticeable widening part line. FIXE Juverol individual ingredients help maintain the hair you already have and creates an environment that is beneficial for hair growth. Dihydrotestosterone (DHT) attacks the hair follicles on the head leading to permanent destruction of the hair follicles, which leads to hair loss. Our formulas ingredients targets the 5-reductase enzyme and stops it from converting androgens to much stronger androgens known as DHT from destroying the follicles.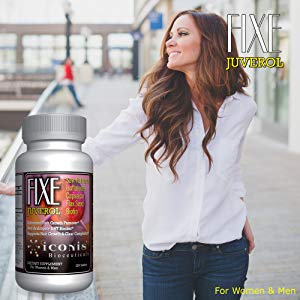 How to Use FIXE Juverol:
Always Start Slow!
Take 1 caplet once a day for the first 1-3 days, then day 4-7 take one tablet with every meal. Once that is well tolerated advance to taking 2 caplets, twice a day with a meal and a full glass of water. In addition: Take with a non-stomach upsetting physician recommended daily multivitamin. Noticeable results may take 6-12 months.
Biotin 300 mcg
Capsaicin 6 mg
Flax Seed 1200 mg
Saw Palmetto 320 mg
Isoflavones 75 mg
Supplement Facts:
Directions: Take 2 Caplets, twice a day with a meal and a full glass of water. For additional benefits take a physician approved daily complete multivitamin.
Other Ingredients: Hydroxypropyl Cellulose CELNY-SSL SFP, Calcium (from Dicalcium Phosphate Dihydrate (DI-TAB)), Hydroxypropyl Cellulose, Silica, Microcrystalline Cellulose Silicified, Croscarmellose Sodium, Microcrystalline Cellulose, Stearic Acid, Magnesium Stearate and Carbowax.
Warnings: Not for the use of individuals less than 18 years old. Do not exceed the recommended daily serving. Do not take if you are pregnant, considering becoming pregnant, breastfeeding, hypersensitive to any of the ingredients, on oral contraceptives, have kidney disease, liver disease, inflammatory or infectious GI conditions. Use Caution in: blood coagulation disorders, on blood thinners, high or low blood pressure, on blood pressure or blood glucose lowering medication. Consult your physician prior to using this supplement. Discontinue at least 2 weeks prior to surgery.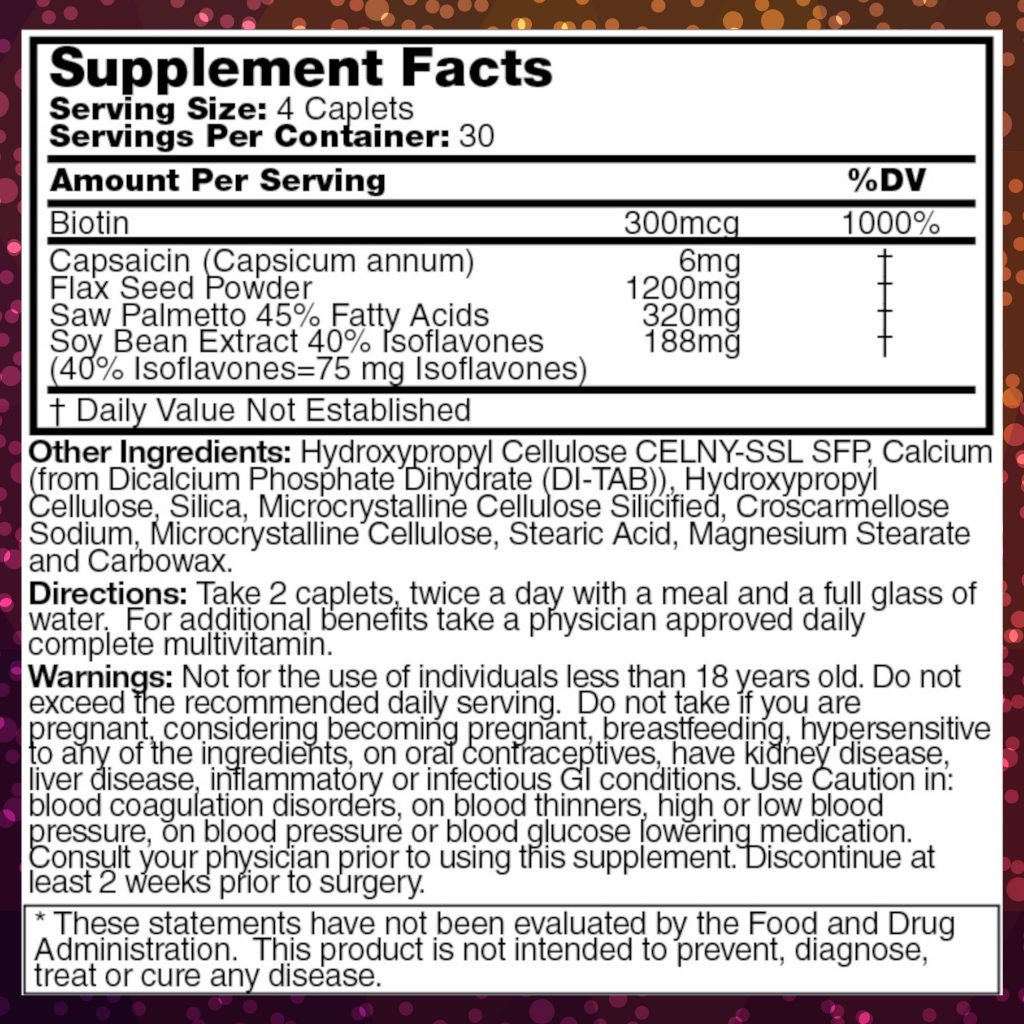 *These statements have not been evaluated by the Food and Drug Administration. This product is not intended to prevent, diagnose, treat or cure any disease.
See the Science
Administration of capsaicin and isoflavone promotes hair growth by increasing insulin-like growth factor-I production in mice and in humans with alopecia. https://www.ncbi.nlm.nih.gov/pubmed/17569567
A Review of the Use of Biotin for Hair Loss. https://www.ncbi.nlm.nih.gov/pubmed/28879195
An overview of herbal alternatives in androgenetic alopecia. https://www.ncbi.nlm.nih.gov/pubmed/30980598
Serenoa repens (Saw Palmetto) extracts promote hair regeneration and repair of hair loss mouse models by activating TGF-β and mitochondrial signaling pathway. https://www.ncbi.nlm.nih.gov/pubmed/29949176
Dietary Flaxseed as a Strategy for Improving Human Health. https://www.ncbi.nlm.nih.gov/pmc/articles/PMC6567199/
Flax and flaxseed oil: an ancient medicine & modern functional food. https://www.ncbi.nlm.nih.gov/pmc/articles/PMC4152533/